Crossposted on
Dailykos
I'm going to try something unusual today, I'm writing a serious and sincere letter to the Tea Partiers.
Yeah, yeah, I know - it's unlikely that any of them will be willing to listen, will give a RIP what I - a damn, dirty DEMOCRAT with centrist/progressive leanings - might have to say, but I think it's important to drop the snark, drop the cheap double-entendres for a moment and attempt a real conversation.
How about some basic ground rules, I won't call you guys "Tea-baggers" or "Nut-Balls" (anymore), if you drop the "Socialist/Fascist" stuff, ok? Can we agree to that?
Fine.
Let's start with the fact that, whether you realize it or not, most of us from the center to the left actually
Agree
that Government Spending has been out of control for quite some time.
WE'VE BEEN SAYING SO
for at least 7 years, some of us - like myslef - for much longer.
But even though we all essentially agree on that point - there are
reasons why you
guys aren't being taken seriously. Valid reasons. You need to come to grips with those, and not just whine about "Liberal Bias" but really get serious in order to be taken seriously. Right now, you're coming off like the people who say "9-11 Was An Inside Job" or that "Elvis has been only playing Possum" and "Area 51 has Alien Bodies Stashed in it".
I'm not saying that to bust your balls - it's just
not that credible.
But your underlying premise, that we need to get government spending under control
ISN'T WRONG
, it's right - unfortunately it's been misdirected and misguided.
For example Tea Partiers have railed against the Stimulus Bill, when most of that bill - was Tax Cuts for individuals and small business.
You Guys were Protesting Taxes, Immediately after your
Taxes Were Cut
.
That's not logical.
The people that cut your taxes, were not Republicans. Every republican voted against the Stimulus bill. Now, I would not say that bill was perfect, it had some flaws --but it did some things correctly and we should be happy about that. YOU SHOULD BE HAPPY, but instead you spit on the bill?
Again, how is everyone else to take that?
So, let's at least come to a basic agreement that the problem here is bi-partisan - ok? Democrats have messed up. Republicans have messed up. See - that wasn't hard was it? What the rest us are wondering is - what's your solution?
"Stop government spending."
Ok, which part? Which part of the armed forces, police, fire-departments, teachers, road-workers and hospitals are you going to lay-off? Who else are you going to put out on the street?
See, this issue didn't start yesterday, it's one that been with of for quite some time. I myself got on this political merry-go-round with the Gingrich Congress of '94, and watched pretty closely through that entire period, including both government shutdowns, the mandate for a "date-certain" balanced budget and the eventual surplus that was created largely by President Clinton's efforts, then destroyed by Bush.
Exactly as was pointed out by this Democrat at the Pensacola Tea Party
(Crowd applauds as he takes the microphone)
All right. Thank you very much.

I want to start also by honoring the service of our veterans, our current servicemembers, our Gold Star parents, thank you so much for what all you've done for this country. (Crowd cheers)

I also want to say, a little history lesson here, back in 2000, there was a budget surplus in the country. (Man in crowd: Yeah!) And during the next eight years, (Man in crowd: What happened?) it was destroyed by the profligate spending of the Bush administration. (Crowd reacts)

And so here we are today, here we are today in a situation ... let me ask you this: Cheer if you make less than 250,000 dollars a year. Just cheer. (Crowd cheers) Your taxes are going to be cut under the current budget. Congratulations!

I was laid off in September because my employer had to make budget cuts. That was before the election, okay? So let's remember, that if you're going to argue about more taxes and less spending, to place the blame where the blame belongs, and that's squarely in the hands of the Republican Congress until 2006 (Crowd starts to react) and the Bush administration. (Crowd boos)

Why was this so difficult to simply agree with? I'm not saying that Democrats don't share in the blame, clearly - THEY DO - but this guy
wasn't wrong
.
Again, I constant read claims by Tea Partiers that "This isn't Partisan", but when someone points out specific things that Republicans did to put us where we are - you ARGUE about it.
Many partier comments have been defensively claiming "this isn't about Democrats" immediately followed by a long list of Democrats to blame like Barney Frank (with dosses of "Fag" thrown in) and Maxine Waters ("Bitch"). What's up with that?
You complain about being called "Racist" when you've got pictures of the President with Buckteeth and Giant- "EarMarx". You do that stuff and you lose you're right to complain about Janeane Garafalo and some bad fellatio jokes. I mean really, think about it.
Many Democrats deserve some criticism, that we can agree on, particularly those who voted along with Bush Deficit Busting Cuts, and those who back in 1998 voted to
repeal Glass-Steagal
the act that had created a a firewall between regular banks and investment banks. Without that firewall people were able to take you're mortgage and
play with it on the stock market
- it gave an incentive to get creative and crazy with financing and we don't need newer, flashier ways to flush our money down the toilet, we really don't. President Clinton deserves blame here also, since he signed this bill into law.
Only
Byron Dorgan
saw the writing on the wall.
I want to sound a warning call today about this legislation. I think this legislation is just fundamentally terrible. I hear all these words about the industry remaking itself--banks, security firms and insurance companies, and that we'd better catch up and put a fence around where they are or at least build a pasture in the vicinity of where they are grazing. What a terrible idea.

What is it that sparks this need to modernize our financial system? And what does modernization mean? This chart shows bank mergers in 1998, in just 1 year, last year, the top 10 bank mergers. We have discovered all these corporations have fallen in love and decided to get married. Citicorp, with an insurance company--that is a big one--$698 billion in combined assets; NationsBank--BankAmerica, $570 million; and the list goes on. This is a massive concentration through mergers.

Is it good for the consumers? I don't think so. Better service, lower prices, lower fees? I don't think so. Bigger profits? You bet.

....

I am not anti-bank, anti-security or anti-insurance. All of them play a constructive role and important role in this country. But this country will be better served with aggressive antitrust enforcement, with, in my judgment, fewer mergers, with fewer companies moving in to the ``too big to fail'' category of the Federal Reserve Board, with less concentration.

This country will be better served if we have tighter controls, not firewalls that allow these companies to come together and do inherently risky things adjacent to banking enterprises, but to decide the lessons of the 1930s are indelible transcendental lessons we ought to learn and ought to remember.

Byron is a Democrat, but I'm not gloating. 38 Democrats in the Senate
voted for this bill.
They messed up, not just Phil Gramm - all of them.
Even without the Community Reinvestment Act, monetizing mortgages would have been a problem. Even without ACORN, even without rampant immigration. Glass-Steagal was put in place to prevent a repeat of the Original Great Depression. Pulling it out almost gave us a second one - and only
8 Senators
voted against it.
I've read a number of discussions about the Pensacola video beyond where it was originally posted (on Dailykos) and I've seriously seen people argue that
There Was No Surplus
.
This is what most of us outside of Fox News World call - "CRAZY TALK!"
Ok, I'm not a CPA or a government accountant, but I did make an attempt at finding out the numbers for myself. This is what I found from Treasury Dept.
Dec 1997
5,502,388
Dec 1998
5,614,217
Dec 1999
5,776,091
Dec 2000
5,662,216
Dec 2001
5,871,413
See that drop in 2000? That's what happens when you have - say it with me now - A SURPLUS of government funds. I will admit that it wasn't that much, but it was definately there, and the primary point that Pensacola man was trying to make was that the downward trend was initially reversed by Bush's tax cuts for the wealthy.
Here's another chart which shows both the ratio between growth of wealth for the largest earners in America and the top tax rate (which during the 50's was 93%).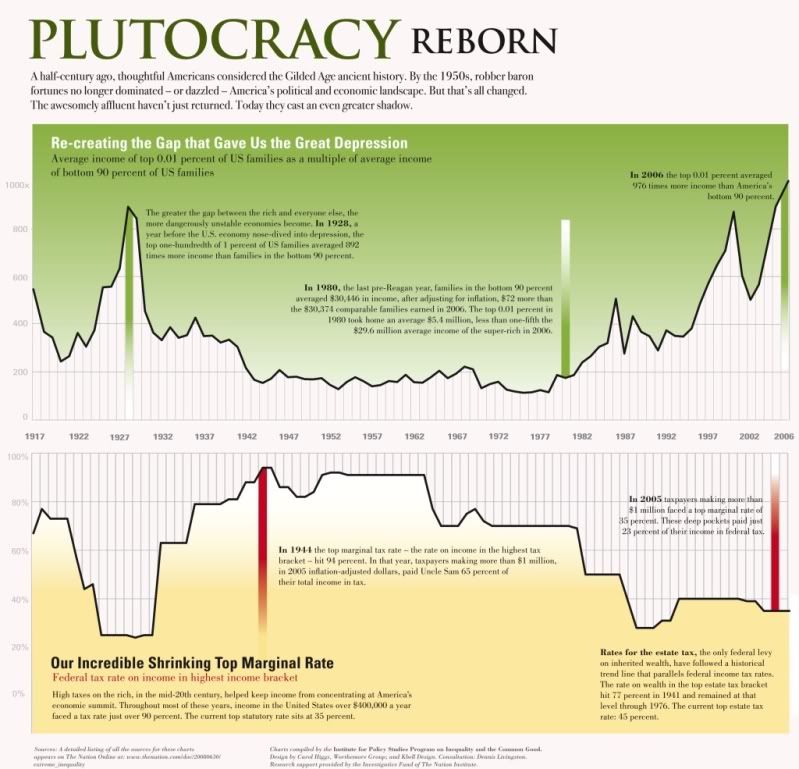 Barack Obama has simply preposed letting the Bush cuts expire - which they will in 2010 - and going back to the rates that Clinton had. That's a 3% change. THREE PERCENT. In response he's been called a "Fascist" and a "Socialist".
I know it's not fun to be called "Crazy" or a "Racists" but responding with "Socialist" doesn't help - particularly when you've got a
Barack Obama The Nazi
poster in your hand.
Here's another controversial Video - one from Chicago with a CNN reporter, the first part of which was broadcast on air, the second part where the reporter is confronted by a "NormaL" Tea Party protester was not.
The first guy in this video (and there is another sequence from before this one with the Barack-Nazi Guy I just mentioned) is not answering her question about his sign stating that his child si already in debt at two-years-old.
This is a point I've made myself, in fact - for years I've called it
The Birth Tax
- so, yet again, we're in agreement on the core point, but the problem begins once he opens his mouth and starts to rail indirectly about Obama by misquoting Lincoln.
Man: Lincoln believed that people had the right to share in the fruits of their own labor and that government should not take it
So basically he's saying tha Lincoln was against taxation? Uh....no.
Lincoln wasn't talking about Taxes, he was
talking about Slavery
!
Indeed, work was as fundamental a value as freedom, argued Mr. Lincoln. In 1854, Mr. Lincoln wrote: "The ant, who has toiled and dragged a crumb to his nest, will furiously defend the fruit of his labor, against whatever robber assails him. So plain, that the most dumb and stupid slave that ever toiled for a master, does constantly know that he is wronged. So plain that no one, high or low, ever does mistake it, except in a plainly selfish way; for although volume upon volume is written to prove slavery a very good thing, we never hear of the man who wishes to take the good of it, by being a slave himself."9

"I believe each individual is naturally entitled to do as he pleases with himself and the fruits of his labor, so far as it in no wise interferes with any other man's rights,"
He was talking about being PAID for you work, the fruits of your labor. This is at least partially why the reporter blows him off - cuz yet again - he's spouting CRAZY TALK.
No, sorry it's not just a "matter of opinion", and he's not entitled to "his view", not when he's just making SHIT UP! And it wasn't even neccesary because he was already correct about the Birth Tax to start with.
Every time you guys do this stuff, the rest of us
tune you out!
Now, following Mr. Lincoln-Guy comes the real discussion - which is really just a complaint about the bias of CNN going out of their way to ignore the legitimate arguments being brought forth in order to just highlight the "crazy people". Here's the problem with that - the Crazies are
always going to stand out
, that's what they DO. It's like asking the News to ignore the guy on fire and instead pay attention to the girl sitting in the corner with a book. THAT'S NOT GONNA HAPPEN.
The reporter says the crowd is "Anti-CNN", to which the people in the crowd respond that CNN is "Anti-Them".
Here are some of the comments to this video from the Not-so-Anti-CNN people.


Cammie2035 (1 hour ago)
CNN = socialist, anti-free thinking SCUM

freeserb (1 hour ago)
CNN is dead last in ratings.

The Tea Party movement is universal.
How many laid off teachers and govt workers will join the Tea Party movement?

It's no longer Left/Right, Dem/Rep, it's more like working people who've been crushed vs. the arrogant state employees who are racist scum.
CNN is a branch of the state.

Anybody who says "tea-bagger" is a vile, disgusting perverted pedophile.

danspeaks (1 day ago)
anti-CNN, way to be a victim lady... i was there and hardly anyone paid attention to them or cared... anti govt... more like pro-freedom

TV media is crap
Anyone see the irony here?
Look, I don't watch CNN and frankly can't stand it - but this isn't helpful.
And is really saying...
The Federal Reserve Runs this Nation... We do have not representation...they're getting all our money, they all need to be thrown out.

...all that much better? You DO have representation. You may not like your respresentative, but you have one, actually THREE of them. All the Republicans voted against the Stimulus - AND LOST. You just plain lost, that's all.
What you need to do, is learn how to WIN again - and what I'm saying to you, in all seriousness, is that a temper tantrum is not a winning strategy.
You need convincing rational arguements
, not conspiracy theories about the Federal Reserve, or ACORN, or Obama-the-Socialist.
Really you don't. Look we just won two sets of elections 2006/2008 in a row - we kind of know what we're saying. Places like Dailykos
DON'T ALLOW CONSPIRACY THEORISTS
, they really don't - and there's good reason for that.
Take a hint.
Here's one last example, via a discussion of the impact of the Tea Parties on C-Span which was posted oby
Michelle Malkin
.
Malkin's Comments
Watch this. Liberal toady James Wolcott argues that since he didn't see big Tea Party crowds on his favorite left-wing tv stations and didn't read front-page stories about the protests in his favorite left-wing newspapers, they weren't newsworthy and no one really turned out except at the ones Fox News covered. C-SPAN host Susan Swain then displays front page after front page of local news coverage showing thousands of Tea Party participants:

"Does that change your view?"

Wolcott: Er, no.
Again, let's talk common sense. Wolcott is saying that the Tea Party crowd simply wasn't all that impressive - and Malkin is putting words in his mouth making assumptions about the papers he reads in New york. Does she know for a fact that one of those papers isn't the New York Post or the Wall Street Journal? No. Did either of these papers have a front page picture of 100,000 TeaParty protestores? No, they didn't becaue at BEST the entire nation wide number of Tea partier's was about 240,000 - but look at this picture, this is from the 2006 immigration protests in Los Angeles, which -in that one city alone -
included 500,000 people
.
Crowds like these are what completely derailed both the plans of Tom Tancredo to aggresively shut down the border and the plans of President Bush for a more "comprehensive" approach to immigration. THIS was impressive, you guys were not.
I know it's a natural tendency, I can't say I haven't done it myself, but my point is that viciously Insulting people - that at the core actually agree with your point on deficit reduction - is not how you go from 200,000 to 500,000 to 1 Million to winning elections. Are you starting to feel me here?
Now Obama has promised to
reduce the deficit by 50%
by the end of his first term. According to OMB projections, he just might do that. CBO - which uses different assumptions says that the defecits will continue and increase for decades?
Also note that a key driver of the new CBO deficit numbers after 2014 are estimates about long-term economic growth—where CBO is somewhat more pessimistic than the consensus. For example, CBO projects long-term real economic growth that declines to 2.2 percent per year. Blue Chip pegs long-term real growth at 2.6 percent per year and the Federal Reserve forecasts long-term real growth of between 2.5 and 2.7 percent—the same as the Administration, which is projecting real long-term growth of 2.6 percent. These differences may not seem big, but over time they accumulate
Whose Right?
It's hard to say, but from the experience we had during the Clinton years in the 90's, Clinton relied on OMB and the Gingrich Congress relied on CBO. Who was right then?
I think you see my point.
Since Obama's been President this is what has happened to the Dow Jones.
We've gained back everything we lost prior to January 20th, and are continuing to gain ground. Companies like Citigroup are starting to show a profit, and
since we are now share-holders in these companies - WE ARE GOING TO SHOW A PROFIT
.
So let me say it again - CALM DOWN! Now is not the time to panic.
A lot of us understand your frustration, really we do - we've been there, but right now is when things are finally starting to get a little better, not worse.
What you guys really don't want to do, is turn into what Evangelical Frank Scheaffer describes -
the crazy guy in the corner annoying everyone.
Consider this a wake-up call. This is your future, for many of you - it's already the present. I'm not saying this to put you down, it's a chance to recognize where you're going and change direction. If you really do care about your country, and not just
your own ass
, then calm down - take a breath - and get involved in a real, honest and open discussion of these issues.
The time is now, but it's you choice.
Vyan