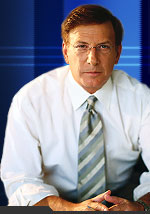 CNN's Aaron Brown
Tonight on "Newsnight With Aaron Brown" the second report aired was
an extensive piece on the
Downing Street Minutes
(still referred to as a "Memo" by the report), emphasing primarily the lack of response stateside compared to the uproar abroad, as well as the potential explosiveness of it's contents.
Both
President Bush and Prime Minister Blair's recent denial
(
"Somebody said, well, you know, we had made up our mind to use military force to deal with Saddam. There's nothing farther from the truth,"
) of the key elements of the minutes were repeated during the report, but these were taken with more a pinch of salt by correspondents as the fact that previous allegations by both former Treasury Secretary Paul O'Neill and former Counter-Terrorism Chief Richard Clarke were re-iterated without spin.
CNN Stated:
British officials have not disputed the authenticity of the document, first published last month by the Times of London.
Ironically, the lead report of the evening was one concerning the "fixing of the facts" by senior White House aids on
Global Warming
, which has lead to the resignation of senior members of the White House's Council on Environmental Policy.
Could this "fact fixing" be the indication of a pattern?
And could this set of hard-hitting reports be an example of the "
Brand New CNN with more facts and less opinion
"?
Only time will tell, but I for one certainly hope so.
Vyan