Saddam's Execution (Cell Phone Version)
After watching this all I can really say is - "What a
Catastrofuck!
"
I'm mean this is just ridiculous and completley demeaning. This execution was the culmination of a trial where three of Saddam attorney's were assasinated. Witnesses were assasinated. Two of the judges quit after their families were threatened only to be replaced by a Kurdish judge who could hardly have been impartial. All of Saddam's
various Crimes
against Humanity remain open cases, since his attempt to assasinate George H. W. Bush, his use of Chemical Weapons against Iran, against the Kurds and his ethnic cleansing of Shia's were not addressed - instead he was put on trail for the execution of 148 men and boys as accomplices to a 1987 failed assasination attempt against him.
It could be argued that a head of state has the right and authority to bypass normal jurisprudence when the security of the state itself is at stake. You could say that Saddam's use of summary execution was indescriminate, cruel and unusual, and did not protect the rights of the innocent.
This would all be true but in point of fact -
George W. Bush has made exactly that arguement
when he instituted secret CIA prisons, the kidnapping and rendition of suspects without due process to be tortured overseas and within U.S. facilities, and the denial of Habeas Corpus.
Saddam deserved his day in court, but I find it difficult to proclaim that he actually received it after this travesty - which was constructed
to our specifications
under the coalition provisional authority. We picked the judges, we picked the attorney's, we picked the rules of evidence and we provided security for Saddam right up until his death. We had control of this entire process and completely botched it - again.
And then we had
the execution...
"[W]e portray ourselves around the world as the champions of democracy and the rule of law," Brokaw said, yet Hussein's execution "resembled the worst kind of nightmare out of the old American West." As a result, Hussein, who "had disappeared, in effect, as some kind of a symbol over there, suddenly becomes a martyr."
This was said by Tom Brokaw after speaking at the Funeral for the Late President Ford and watching the official footage -
he hadn't even yet seen the secret cell-phone images
.
During this week Ford has been lionized for "healing the nation" by his Pardon of President Richard Nixon following Watergate. How exactly people can consider Nixon's pardon to be a great healing event, and not see how the Saddam Snuff Film isn't incredibly devisive is beyond me.
Maybe that's why the
arrested the cell-phone
camerman. But they didn't arrest the people who shouted "Go to Hell" just before he fell, or the Shia guards who chanted "Moqtada Moqtada Moqtada" - the name of the anti-American Shia Cleric who has gain massive influence and power in Iraq with an Army of 60,000 militia members and whose own father was murdered by Saddam (which naturally, he wasn't tried for). In addition the execution took place in one of torture and execution centers used by Saddam's own secret police -
how could this not be seen as anything other pure naked vengence
, how could this not have turned Saddam into a martyr as he showed both grace and dignity in the face of his taunters and his own imminent death, admonishing them that "This is not how Men behave?"
Indeed it is not. It's how a rabid mob of thugs behaves.
The worst part of this is that Saddam was killed on an Islamic holiday - but the kicker is this: Shia's and Sunnis do not celebrated the start of that Holiday on the same day. Shia recognize the Holiday as beginning on Sunday, while Sunnis recognize it on Saturday and
Saddam was killed on Saturday
which means that the execution was indented as an insult and offront to the Sunni minority who formerly controlled the country under Saddam's regime.
Talk about sticking in the knife and twisting it.
Tom Brokaw is wrong, this wasn't an execution out of the old west -
it was a Lynching.
One that if anything may have not only completely cemented the rift between Sunni and Shia, it also has prevented Saddam being able to testify in his War Crimes trial - where in all likelyhood he would name Donald Rumsfeld and Dick Cheney as accomplices who aided and abetted him with funds, access to technology and chemicals
during the Iran-Iraq War
and even after the First Gulf War
when sanctions were in place
.
All we have to do is look at this picture and remember "Dead Men Tell No Tales"!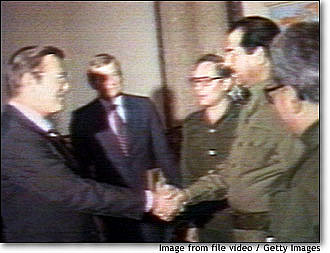 Vyan